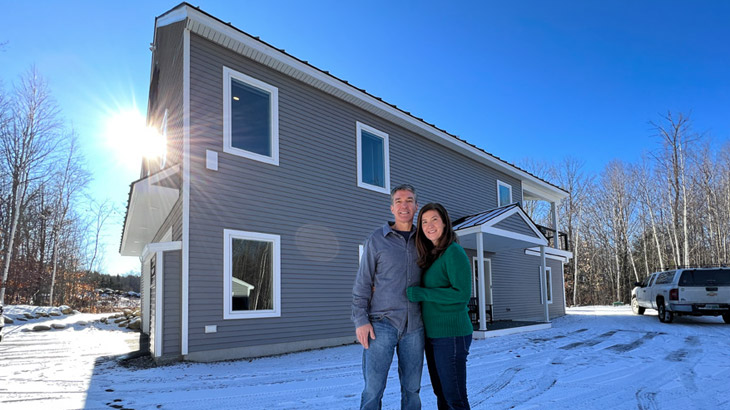 Background
Like many of us who enjoy heading north in the summer, the DeCamp family found that they were happiest when they visited their quaint 800-square-foot summer camp lodge at Lake Winnipesaukee, which spurred conversations about downsizing. As an elementary school technology integrator, Kat DeCamp teaches her students to think of technology as a solution. When she and her husband, Rob, began talking about downsizing to live a more stress-free and efficient life, the couple researched the latest technological trends and homebuilding techniques.
The DeCamps soon came across insulating concrete forms (ICF), an alternative to traditional wood framing. Insulated molds are filled with concrete to form a stable, energy-efficient frame for the home. While this construction method has been around since the 1940s, today's materials make them a more viable option for zero energy home construction. Knowing they wanted a super energy-efficient, sustainable home with very low maintenance, Rob and Kat felt this type of home construction would help them achieve their goals.
The couple utilized the NHSaves online directory and resources during their search for ICF contractors. Throughout this process however, they discovered a connection to an ICF construction company through friends. After teaming up with Mike Bolduc of MRB Construction, the DeCamps were on their way to building their dream home.
Goal
The DeCamps ultimately decided to shed the excess space of their large, 1980s, three-bedroom house and build a home that would suit their needs while reducing their carbon footprint, as well as maintenance and heating and cooling expenses.
Outcome
The DeCamps completed their dream home in approximately two years – a two-bedroom, one-bathroom, open layout design. The 2,000 square foot home integrates some of the newest energy efficiency technologies including:
Nudura ICF construction
Open loop water system, which passes water through a heat exchanger for optimal efficiency, that is used for radiant floor heating and providing hot water
Ductless air source heat pump
Lifebreath Air Exchanger to ensure fresh air is constantly flowing through the home
Wi-Fi-enabled electric generator capable of powering the entire residence
Renewable energy sources – 37 solar panel, 14.8-kilowatt area
Results Summary
HERS index score* with renewables: -29
HERS index score without renewables: 45
Incentives/Rebate: $4,000
Annual Savings: $5,300
Approx. Annual Energy Cost: $1,800
Annual kWh Savings: 750
Annual propane gallon savings: 790
Square Feet Electrified: 2,000
Total Cost: $515,000