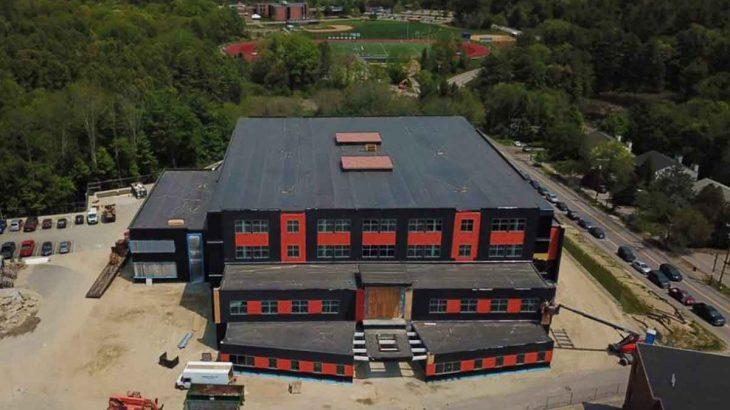 NHSaves Utility Partners Provide Oyster River Middle School the Pathway to Energy Savings
Construction is underway for the new Oyster River Middle School located in Durham, New Hampshire. The four-story school is being built behind the existing Oyster River Middle School, currently serving students in grades 5–8 in the communities of Durham, Lee and Madbury, New Hampshire. The district is working with NHSaves utility partners Eversource and Unitil to incorporate energy-saving measures that the entire community will benefit from, with the goal of zero net energy (ZNE), meaning it will have very low energy use, and will be able to cover 100% of its energy needs with clean, renewable energy. Due in part to the technical expertise and financial assistance provided by the NHSaves utility partners, the new Oyster River Middle School is proposed to surpass all New Hampshire public schools in terms of energy efficiency, carbon footprint and sustainability.
"Our commitment to sustainability benefits everyone in the community, not just those who have students in the school,"

Jim Rozycki, Director of Facilities, Oyster River Cooperative School District SAU #5.
NHSaves utility partner Unitil began working with Jim during the infancy stages of the new school's design process. Unitil's Sr. Energy Efficiency Program Coordinator, Brad Hunter, then engaged New Construction Energy Efficiency Consultant Mike Loughlin at NHSaves utility partner Eversource to take the lead on reviewing the available pathways and incentives for new construction. The utilities worked together with Jim to identify and implement electric and gas energy conservation measures. Additionally, the NHSaves utility partners brought on the engineering team at DMI to analyze the potential energy savings and costs associated with each of the identified measures and to compile the documentation required to support applications for incentives. By engaging with the utilities early in the process, the Oyster River Cooperative School District will receive deeper incentives and technical assistance for pursuing energy-saving opportunities in building design and construction.
These incentives were made available through the NHSaves commercial new construction pathway 1. In this pathway, the NHSaves utility partners support customers through a year of post-occupancy performance—setting customers up for success not only in the design phase, but through construction and operation. New Hampshire electric and natural gas utilities Eversource and Unitil will be implementing measures to help the school reach ZNE goals that will significantly minimize future overall energy use. This ZNE project is eligible to receive the highest level of incentives to offset the project costs, as well as resources and tools to help achieve a very low energy use intensity and ultimately, ZNE success.
The proposed facility is expected to save approximately:
420,771 kWh of electricity
460 therms of natural gas per year (38% and 32% of baseline building use, respectively)
300 tons of CO2 emissions per year.
Stay tuned as we document and follow the build throughout the year, diving deeper into the ECMs as they are implemented, reviewing cost savings for the community, and showcasing how a zero net build comes to life. Stay up to date by visiting nhsaves.com.