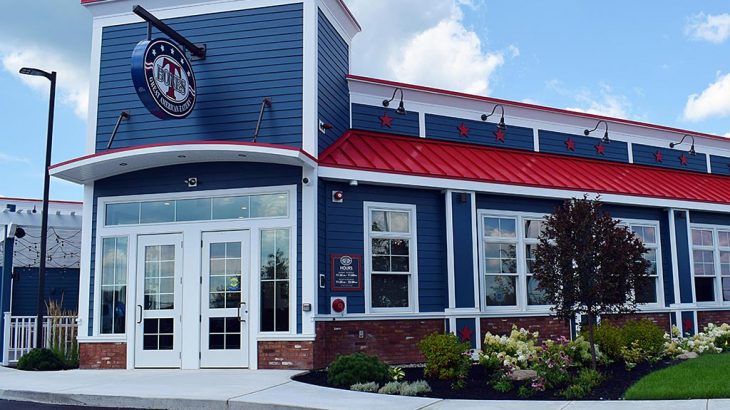 Concord, NH
When planning the custom build for the T-BONES Great American Eatery in Concord, New Hampshire, understanding how to optimize efficiency and keep energy costs low were key building factors necessary for its sixth and largest location.
With restaurants consuming three times more energy per square foot than other commercial enterprises according to the U.S. Energy Information Administration, this T-Bones location within the Great NH Restaurant group was eager to take advantage of the new equipment and construction rebates offered by NHSaves utility partners Liberty and Unitil. The NHSaves utility partners were able to determine eligibility for a variety of incentives on energy efficiency equipment, resulting in Great NH Restaurants receiving $10,526 in incentives from Liberty and $10,845 from Unitil. This equated to an annual energy cost savings of $11,268 for T-BONES.
The restaurant, designed by Market Square Architects and built by Fulcrum, a construction firm out of Amherst, New Hampshire, has an occupancy of 307 people, including over 250 seats in the dining room and bar, a private dining room and an outdoor dining terrace. It also features a 40-person private dining space called the Revolution Room. Located at 404 S Main St in Concord, New Hampshire, visibility from the highly traveled I-93 was a crucial part of the decision to move forward with the new building. With the implementation of energy-efficient equipment, such as ENERGY STAR® certified kitchen appliances, kitchen hood controls, high-efficiency HVAC rooftop units and above-code insulation, NHSaves technical expertise and incentives helped T-BONES optimize building performance, save energy and lower operating costs.
Project Highlights
| | | | |
| --- | --- | --- | --- |
| Cost of Project | NHSaves Incentives | Annual Energy-Efficiency Savings | Simple Payback |
| $50,288 | $21,371 | $11,286 | 2.6 years |
NHSaves provides opportunities for companies involved with designing, selling, supplying, and installing energy-efficient equipment and measures. As a NHSaves partner, Resilient Buildings Group (RBG) provided consulting services to Unitil and Liberty allowing them to identify energy efficiency opportunities on the facility's new construction. RBG staff then expedited the development, verification, and incentive administration of efficiency projects for both Unitil and Liberty.
Bob Reals, Commercial and Industrial Program Manager for Liberty, and Joe Van Gombos, Sr. Energy Efficiency Program Coordinator for Unitil, lead the project for NHSaves and had this to say: "We were excited to have the project team at Fulcrum engaged with RBG to achieve successful integration of energy- and cost-saving measures at this new T-BONES."
Contributing to a sustainable environment will save your business money. Local businesses have a significant impact on New Hampshire's energy-saving efforts. The NHSaves utility partners help businesses with the identification of energy efficiency upgrades. Further, they provide financial incentives and guidance to successfully complete major energy efficiency upgrades. New equipment and construction incentives are offered to any commercial or industrial customer building a new facility, undergoing major renovation or replacing failed (end-of-life) equipment.