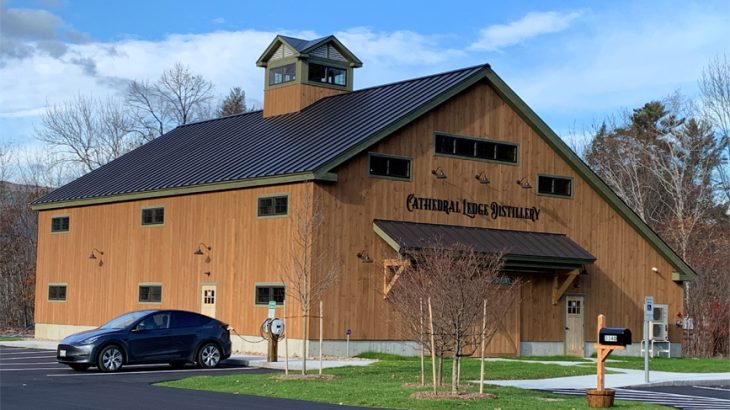 North Conway, NH
The process of developing an energy-efficient design that blends aesthetic beauty with significant savings takes time and expertise. When done right, the result is like an exquisite whiskey: bold and purposeful.
Just like the Cathedral Ledge Distillery in North Conway.
Owners Christopher and Tracy Burk opened the doors to their North Conway distillery in December of 2020. The distillery produces hand-crafted organic vodka, gin and whiskey, housed in a classic timber-frame construction that is nearly 5,000 square feet and includes a tasting room.
The organic "grain-to-glass" distillery has worked closely with the New Hampshire Electric Cooperative (NHEC) to identify and pursue energy efficiency opportunities, as well as the incentives that have made them more affordable to install.
Like other business owners throughout New Hampshire, the Burks discovered the savings available when working with their NHSaves utility partners to be as energy efficient as possible.
"They've been a good sounding board," Christopher Burk says of his experience working with NHEC commercial accounts administrators Chelsea Smith and Joe Lajewski. "There are a lot of options when you're building new; it requires some pre-planning and that's where NHEC helped tie it together."
Distilling is an energy-intensive process, Burk explained, requiring lots of thermal energy followed by rapid cooling. Energy recovery tanks, which capture hot water from the distilling process and circulate it through the radiant floor heating in the winter, were installed underground to maximize the building's efficiency. In the building's retail area and tasting room, highly efficient heat pumps supplement the radiant floor heat in winter while providing cooling and dehumidification in summer.
Other energy efficiency features of Cathedral Ledge Distillery include:
10-inch poly insulation beneath timber frame exterior (beyond code)
High-efficiency propane boiler
All LED lighting
Dark Sky-compliant outdoor lighting w/photo-sensitive dimmers
The business, located at 3340 White Mountain Highway in North Conway, also features two Level 2 Electric Vehicle (EV) charging stations on site for customer use.
Burk said New Hampshire Electrical Cooperative's technical assistance early in the building design process was important. Working with building engineers Resilient Buildings Group of Concord, NHEC analyzed various energy efficiency measures, from the building shell to the distilling process.
"This technical assistance early in the process was critical," says NHEC's Lajewski. "We can be most effective in helping members early in the building process. Changes to key energy systems are difficult to make once construction documents are finalized."
The utility partners of NHSaves offer new equipment and construction incentives to any commercial or industrial customer building a new facility, undergoing a major renovation, or replacing failed (end-of-life) equipment.
With the intent of helping businesses reduce operating expenses and reach their building energy efficiency objectives, the energy partners of NHSaves have developed offerings suited for a variety of building types and a range of energy efficiency strategies and technologies.
By working with the NHSaves utility partners from the project's feasibility or conceptual design phase, your project team can achieve deep energy savings and even net zero energy status to minimize future energy use.