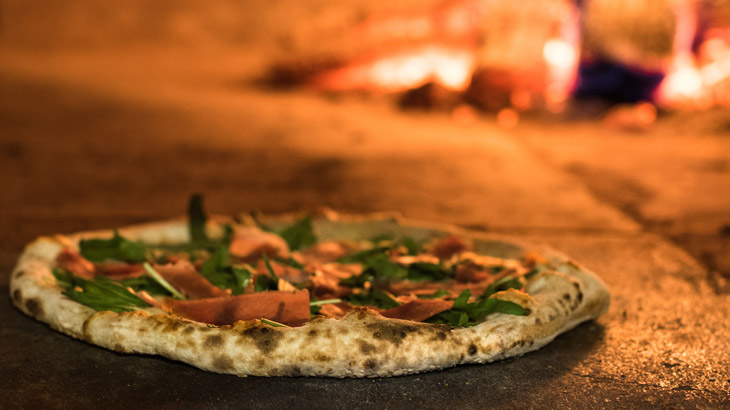 Portsmouth, NH
What do the cooking, refrigeration and lighting components of your restaurant represent? Opportunity! These components of running your business make up more than 65% of your total energy costs.
Priscilla Lane-Rondeau, proprietor of 900 Degrees, Manchester, switched to energy efficient fluorescents in her office, hallways, storage space and even in her booth lighting in 2010 through the Eversource program. She shares, "I am delighted with the look and the energy-savings of the nine-watt torpedo flame bulbs."
Lane-Rondeau also put her outside lighting on timers and switched out old exit signs with 25-year LED signs.
And while electricity and gas bills make up only a fraction of total operating budget, "if you saw $100 lying on the sidewalk, wouldn't you stop to pick it up?" asks Peter Egelston, owner of the Portsmouth Brewery.
Restaurants that strategically invest in energy efficiency can cut utility costs 10% to 30% while enhancing the customer's experience and improving working conditions.
Some efforts require minimal investment and others require capital, but all will have immediate and long term financial benefits.
But where do you start?
Keep your approach simple by determining the energy consumption you can cut, curtail or control.
Portsmouth Brewery's Egelston recommends tackling projects incrementally, starting with making easy changes. The Brewery's initial ventures into energy conservation focused on installing programmable thermostats, timers on lights and switching to a low flow nozzle in the dish pit.
Egelston shares, "To get started, choose projects that are not painful. Do those things that do not have a big upfront expense yet deliver an immediate payback."
In 2003, the Brewery participated in their first energy efficiency venture working with Eversource, changing out lighting to reduce electric demand by five kilowatts and annual energy usage by 27,000 kilowatt hours at the 56 Market Street restaurant. The incentive from Eversource equaled 50% of the project's total cost.
All NH utilities make their resources available, starting with account executives who can guide customers through their energy efficiency programs and incentives for approved measures. They can assist accounts with finding vendors who deliver services including comprehensive audits, design and installation.
According to Thomas Belair, Eversource Energy Efficiency Services, "New Hampshire utilities also team up throughout the year to deliver seminars to our shared customer base. We provide education about emerging technologies and showcase actual projects local businesses have undertaken." These events allow companies to learn about efficiency measures available for gas, electric and alternate fuel applications in one centralized forum.
Beyond lighting retrofits and installation of timers and occupancy controls, restaurants may find significant energy savings opportunities by replacing motors and installing variable speed drives on equipment that does not need to be running at full load. Areas deserving focus include cooking, refrigeration, HVAC and air handling.
Brennen Rumble, General Manager of the Portsmouth Brewery, also regards the NH Sustainable Lodging and Restaurant Program (NHSLRP) as a source of invaluable education regarding existing and emerging technologies. Explains Rumble, "Through the program, we learned about Eversource audits and rebate programs as well as available grants."
Information is made available by NHSLRP to members via electronic newsletter, seminars and recorded webinars posted to their website at www.nhslrp.org.
When looking at efficiency measures, the Brewery's Egelston recommends building a spreadsheet to weigh the cost and benefits of potential opportunities. States Egelston, "I am surprised by how many people look at the initial expense and decide against a project that reduces energy consumption, when in fact the savings are immediate and can be substantial over the long term."
Lane-Rondeau of 900 Degrees, would agree, saying, "Many think it takes a lot of work to be green, but it doesn't. And it creates goodwill with customers, who really appreciate the fact that we care." She jokes that "green" endeavors could be charged to her marketing budget.
Michelle Veasey, Manager of NHSLRP, notes, "More restaurant owners are mandating the purchase of ENERGY STAR certified equipment including commercial fryers, steam cookers, refrigerators, ice machines, pre-rinse valves…even hand dryers."
The ENERGY STAR designation guarantees that a product has met or exceeded requirements for energy efficiency established by the U.S. Environmental Protection Agency and U. S. Department of Energy.
As Veasey points out, ENERGY STAR products operate up to 50% more efficiently than standard models. Often, these products also enjoy an extended lifespan as well as other desirable characteristics of operation.
Veasey also described the aim of the NHSLRP, saying "We are focusing on restaurants this year; incorporating local food and energy reductions can have a huge impact on the environment. There are so many opportunities for energy savings in kitchens and dining areas that we continue to feature these topics in the New England Eco-Hospitality Conference at the Sheraton Harborside in Portsmouth. We hope to see lots of new faces this year at the next event."
"We proudly display the Sustainability Program logo that lets our customers know we are committed to sustainability in our operations," says Portsmouth Brewery's Egelston, noting that more customers are seeking out businesses that are mindful and "green". He acknowledges that he will never be able to say he is "done," because technologies continually evolve.
But he is proud to say he started somewhere.