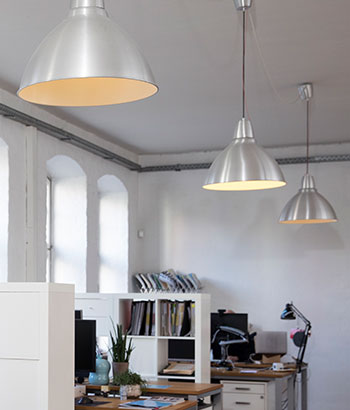 There are plenty of reasons to invest in energy-efficient lighting for your business: Safety. Functionality. Ambience. Plus, perhaps everyone's favorite—a noticeable positive impact on your bottom line.
Delve into the world of energy-efficient commercial lighting solutions with your NHSaves® utility partners. From sleek LEDs to smart lighting systems, these options light up your workspace while minimizing your environmental footprint. Discover the advantages of embracing LED technology, from cost savings to enhanced aesthetics and beyond.
LED lighting technology consumes significantly less electricity when compared to traditional incandescent or fluorescent lighting. In fact, LED light bulbs consume at least 75% less energy than incandescent bulbs and last up to 25 times longer. So why are they so efficient? The answer lies in the fact that 95% of energy used in LED bulbs is converted into light. This means only 5% is being lost to heat, whereas in an incandescent bulb that uses heat to create light, about 90% of energy is being wasted as heat. Plus, your NHSaves utility partners offer varying incentives, from $3 all the way up to $215, based on the type of LED lighting you purchase.
Another great benefit is that many energy-efficient lighting systems come equipped with smart controls. This means that you can customize lighting levels and set schedules for different times of the day when more or less light may be needed. So, whether you own a restaurant and want to set the mood with your lighting, a retail store where bright light can positively impact sales, a school where proper lighting can affect test scores or a museum where lighting needs to be just right to maintain works of art, you can have it all when you make the switch to LED lighting with a smart-control system. Even better? Your NHSaves utility partners make it easy to upgrade your current lighting system with a lighting retrofit incentive.
Ultimately, investing in LED lighting is, simply put, a smart business move. Though the date of the invention of the first-ever LED light bulb is up for debate, their rise in popularity didn't come about until the early 2000s. And though there were barriers to entry to begin with (higher quality = higher cost), the same is not true of today's LEDs. While the upfront cost is slightly higher (think: $5–$7 per bulb vs. $2–$3 per bulb), when you consider the fact that LEDs last up to 25 times longer, the investment more than pays for itself. Plus, as technology continues to advance, energy-efficient lighting is likely to become even more efficient and affordable. By investing in these technologies now, businesses like yours can position themselves to benefit from future innovations. Whether you're ready to make the investment now or are just looking into your options, your NHSaves utility partners have resources to help you get started. Choose from three different ways to save with LEDs or check out LED lighting rebate options for municipalities.