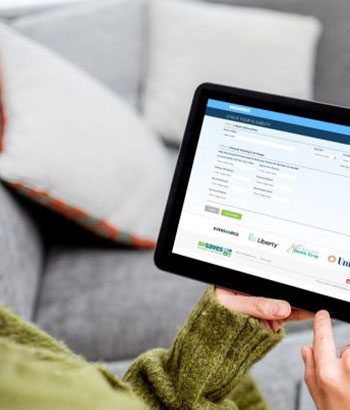 Whether you want to improve the comfort of your home, reduce the impact it has on the planet or learn about the long-term costs associated with your energy usage, your NHSaves® utility partners have the resources to help calculate the efficiency of your home.
The home heating index (HHI) tool available on NHSaves.com is an easy, online calculator that can help you evaluate the current efficiency of your home. How does it work? It all comes together in a few simple steps:
Enter your utility provider and your zip code.
Determine the conditioned (living space) square footage of your house.
Provide details on your annual heating fuel usage (12 months of heating fuel).
Calculate your score!
This will provide a baseline for moving forward in your smart-energy journey.
If your house scores low in the efficiency range, it will qualify for the Home Performance with ENERGY STAR® program offered through your NHSaves utility partners. The program provides a comprehensive overview of improvements you can make throughout your home that will work in tandem to optimize energy efficiency and comfort while helping the environment and, potentially, lowering your energy bills. An energy contractor will conduct an interview with you to understand your concerns with your energy usage. Then, they will inspect your home, including your attic and basement or crawlspace, and run diagnostic tests to locate air leaks and find trouble spots. Qualified customers can receive this service, valued at $500, for a $100 fee, which will be deducted from the cost of the project if you decide to move forward with any improvements identified and recommended from the audit.
Didn't Qualify? No Problem.
If you didn't qualify for a whole-house energy audit through the Home Performance with ENERGY STAR program, don't worry—there are more steps you can take to improve your home's efficiency. Your NHSaves utility partners make saving energy simple with many program incentives, tips and resources that can help you save in other ways.
Consider your appliances— When in need of new appliances be sure to look for the ENERGY STAR® label and the most efficient options. Simple measures, like installing a smart thermostat, can also help you use less energy by allowing you to automate settings during certain times of the day, like when you won't be home, as well as adjust settings via your smartphone. Your NHSaves utility partners offer rebates on appliances, such as a $20 rebate on ENERGY STAR certified room air conditioners and substantial rebates on air-source heat pumps and central air conditioners.
Shop the NHSaves online marketplace—The marketplace offers instant rebates on ENERGY STAR certified products, like room air purifiers, smart thermostats and advanced power strips.
Make smarter energy choices—Adding more thought to the energy choices you do make can add up. For example, using a ceiling fan only uses between 30 and 50 watts of energy per day while a window air-conditioning unit uses between 600 and 1500 watts per day! Keep in mind that fans cool people – not rooms – so they should be turned off when the room is empty.