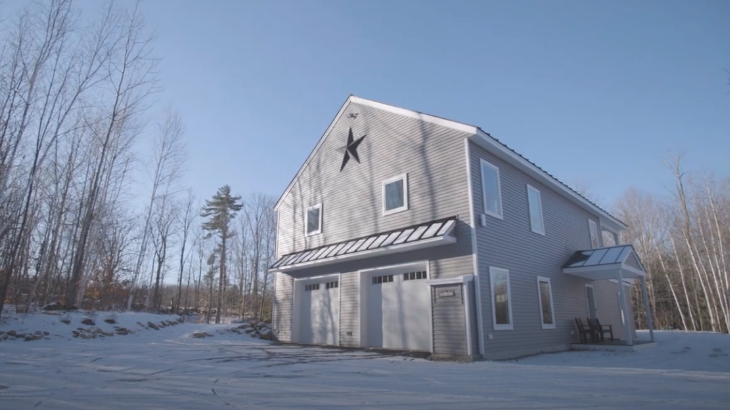 For Chris and Kim Roche, the idea of leading an energy-efficient lifestyle has always been in the backs of their minds. So, when it came to mapping out their dream house, they knew they wanted to build something that would not only benefit them, but that would also give back to the environment. The couple combined Kim's skills in design and planning with Chris's background in engineering to create their perfect, energy-efficient house—and it paid off. Their home was named the 2022 winner of the annual NHSaves® Drive to Net Zero Home Competition.
The Roches' home in Meredith was one of three honored by the NHSaves utility partners for its energy-efficient building practices as part of this year's competition, with prizes of $5,000, $3,000 and $1,000 for first, second and third place, respectively.
First place: Chris and Kim Roche's home in Meredith, New Hampshire—Chris Roche was the builder, and the New Hampshire Electric Cooperative was the utility partner.
Second place: Robert and Kathleen Decamp's home in Gilford, New Hampshire—MRB Construction was the builder and Eversource was the utility partner.
Third place: Anastasia Rodzianko & Christopher Rivet's home in Hanover, New Hampshire. Vermod was the builder and Liberty was the utility partner.
Homes participating in the Drive to Net Zero Home Competition must meet certain criteria for efficiency standards. This includes cost effectiveness, total estimated energy use and the home's score on the nationally recognized Home Energy Rating System (HERS) Index. The competition was introduced in 2017 as a design-and-build competition for single- and multi-family homes.
Why build to net zero? Utilizing energy efficiency best practices in home-building helps Granite Staters reduce their energy use while improving their homes' efficiency.
Smaller scale, bigger impact
For Robert and Kathleen Decamp, their interest in the competition started with a desire to downsize and feel closer to their environment. They modeled their new build in Gilford after their small camp, where they've loved spending time over the years.
A more modern approach to efficiency
Before building their net-zero home in Hanover, Anastasia Rodzianko & Christopher Rivet lived in a 100-year-old house. While beautiful, it was drafty, which can negatively affect energy bills. So, when considering what to do with the land they had bought several years prior, they decided building a modular, efficient, single-story home would be the perfect use.
If you'd like to learn more about these net-zero-energy homes, you can watch the full videos to see the inspiration behind these energy-efficient builds in Meredith, Gilford and Hanover.