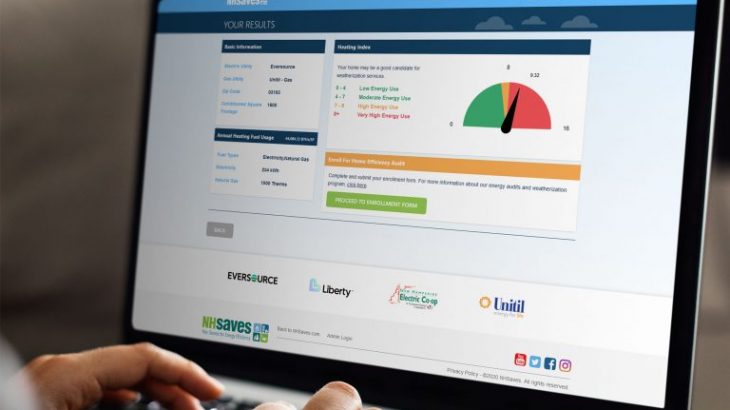 From inefficient doors and windows to poor attic ventilation, there is a myriad of ways your home loses heat, but there is one sure way to find out how to fix the problem: A home energy audit.
The Home Heating Index (HHI) tool is part of the NHSaves Audits and Weatherization program, allowing customers of Eversource, Liberty Utilities, New Hampshire Electric Co-Op and Unitil to determine if their home qualifies for an audit. Qualified candidates can earn incentives and rebates and save up to 20% on their home's annual energy costs.
Filling out the form is a quick and easy process just by entering:
The name of your utility company.
The conditioned square footage (the rooms inside your home that are heated and/or cooled).
Yearly heating usage.
The results are instant and will let you know if you are a good candidate for weatherization services. If you qualify, you will be asked to fill out an enrollment form. A representative from your utility provider will follow up to discuss scheduling an audit.
"The tool brings people into our retrofit weatherization program, which improves the efficiency of the home by tightening it up, adding insulation and making it more comfortable," says Matt Minghella, Residential Program Manager at Liberty Utilities. "This also allows the home to consume less energy for cooling."
Meaningful incentives, established contractor relationships and access to low-interest financing contribute to significant savings of up to $8,000 on overall improvement costs. The weatherization program helps customers save on all of their energy use, including oil, propane and wood heating costs during colder months and electricity for cooling during the summer.
The weatherization program is a comprehensive, whole-house approach to improving energy efficiency and comfort at home to save customers on energy costs. The program was honored by the American Council for an Energy-Efficient Economy (ACEEE) with the Exemplary Program Award as one of the leading energy efficiency programs in the United States
Virtual Home Energy Assessments are also offered as a safe, convenient way for you to make energy-saving improvements. A virtual Home Energy Assessment provides the same expertise and personal care as an in-home visit, except your Energy Specialist interacts with you remotely, by phone or video service.
"Customers who go through this program will see immediate benefits through their utility bills and through the fact that their house will be more comfortable and quieter because it's better insulated," says Ben Stephenson, Program Coordinator, Customer Energy Solutions for Unitil. 
CLICK HERE to test your home