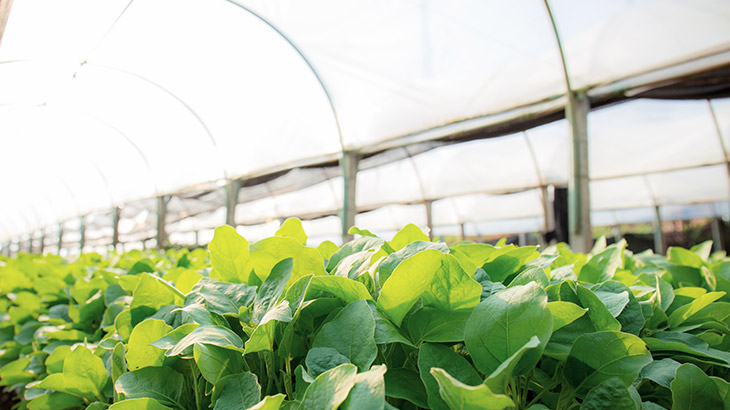 Wentworth, NH
When Dan Nelson decided to retire and live in Wentworth about 7 years ago, he looked forward to building a greenhouse and enjoying his passion for gardening.
What Dan didn't know was how quickly his hobby would turn into the now thriving business he calls Hobbit Hill Farm.
Dan enjoyed growing tomatoes the most and pursued growing them in the off season in his green house. He used high pressure sodium (yellow) lights for years, though he admits, he used to dread the arrival of the electric bill. "With his average bill exceeding $1,000 per month, Nelson had good reason to cringe. But thanks to a lighting retrofit and rebate from New Hampshire Electric Cooperative (NHEC), Nelson's greenhouse is back in the black.
"I'm always looking at what I can do to control costs, but electricity is something I had no control over" Nelson said. He began researching the impacts of replacing the high pressure sodium lights with state of-the-art LED tri-band grow lights; but with the upgrade cost of nearly $24,000 it would have been financially difficult to come up with the initial cost. When he learned about the small commercial energy efficiency program offered by his electric utility he was quick to apply. Nelson received $7500 towards the upgrade to LED lights which offered comparable wavelengths of light all the while maintaining his yield of locally-grown tomatoes. Nelson also applied for and received a USDA grant which matched NHEC‰'s rebate, thus significantly reducing the upfront cost of his investment.
Now, Nelson says he's running more lights for more hours and paying less than he used to literally reducing his electric billin half! For a small business like Hobbit Hill Farm, that kind of savings has an immediate impact on the bottom line.
Finding ways to save money and energy always makes for an exciting story, but what makes Hobbit Hill Farm's tomatoes stand out even more is the interesting way in which they are grown – hydroponically. The tomatoes are grown by a precise and gentle technique which uses coconut husks, no soil, tubes with sprayers, added micronutrients in the water, and a lot of attention and care of all of which make for an in-season tomato taste year-round.
All of Hobbit Hill Farm's tomatoes are sold locally to NH grocers and restaurants which appreciate being able to stock and serve locally grown produce in the dead of winter. Nelson is grateful to have had an opportunity to advance the technology of his business and wouldn't have done so without the involvement and financial assistance from his local electric utility. Businesses all over New Hampshire are taking advantage of their electric utility's energy efficiency programs to save energy and money.