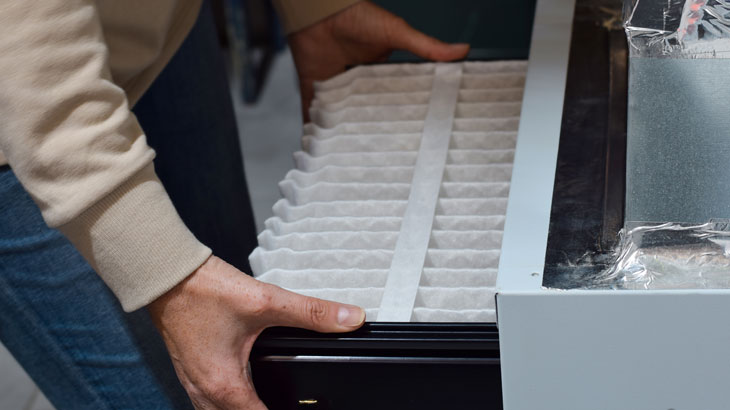 The Office of Energy Efficiency and Renewable Energy defines "energy efficiency" as using less energy to perform the same task or produce the same result. So how do you do this when making the transition from winter to spring? It's all about heating and cooling your home efficiently.
No matter the age of your HVAC system, keeping up with routine maintenance is essential to ensuring you're using the least amount of energy to heat and cool your home. In fact, according to the Department of Energy, when you combine proper maintenance with recommendations on insulation and thermostat settings, you can save nearly 30% on your energy bills. Aside from being more efficient, caring for your HVAC system can also improve air quality and keep your home safe from carbon monoxide leaks.
Checking your HVAC filter regularly should be on your to-do list. If your home's airflow is restricted from a dirty filter, your heating and cooling system will have to work harder, thus using more energy.
Incorporating a tune-up for your HVAC system can also be a beneficial part of your spring cleaning routine. Having a qualified technician perform annual maintenance and inspections will ensure your HVAC system is operating at its best. This should include checking thermostat settings, tightening electrical connections, lubricating moving parts and checking system controls, according to ENERGY STAR. This way, you'll know you're not using more energy than is needed to heat or cool your home.
Your NHSaves® utility partners offer numerous rebates and incentives for upgrading your HVAC system. Rebates are available on central air conditioners, air-source heat pumps and Wi-Fi thermostats, as well as on geothermal heat pumps for New Hampshire Electric Cooperative customers only. They also offer rebates on ENERGY STAR® certified room air conditioners, which use 10% less energy than conventional models, helping you to save energy and the environment.
New Hampshire encounters a wide range of temperatures during the spring, and it can be a challenge to make sure your HVAC system isn't working harder than necessary to heat or cool your home. One useful way to maintain an energy-efficient environment is to pick one temperature that feels comfortable regardless of the weather and outside temperature and take a "set-it-and-forget-it" approach.
When there are times that adjusting your thermostat is unavoidable due to the temperature outside, consider this "smart" solution. ENERGY STAR smart thermostats allow you to control your home's temperature directly from your smart device, even when you're not home. This can help you save up to $100 in yearly energy costs. Plus, NHSaves utility partners Liberty and Unitil offer rebates on Wi-Fi-enabled thermostats, making the process as easy as pushing a button.
Whether you rent or own your home, your NHSaves utility partners have incentives, resources and tips that can help you use energy more efficiently to help reduce energy consumption and make your home a more comfortable place to live.