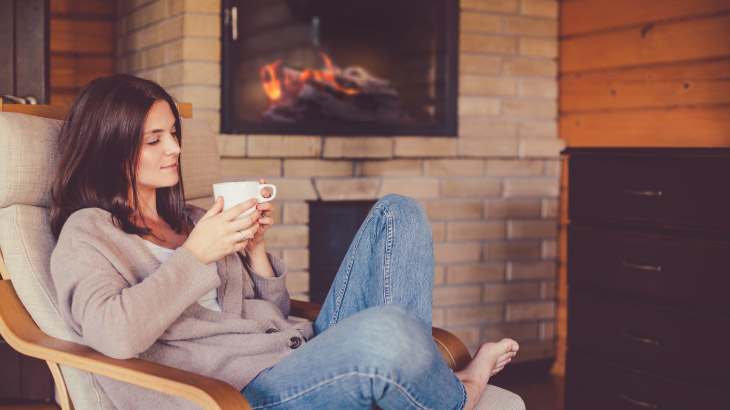 Keeping your home warm and comfortable during the winter months in New England can feel like a big lift. Your NHSaves® utility partners are here to help lighten the load. If you're struggling to pay your bills, please contact your utility regarding a payment plan. In the meantime, here are ten cost-effective ways to stay cozy inside, regardless of the weather outside.
Ensure your equipment is regularly serviced. Routine maintenance of HVAC systems helps to ensure they are functioning at their best, so you don't waste any unnecessary energy when used properly.


Switch the direction of your ceiling fans. In the winter, ceiling fans should be set clockwise on low speed to help move warm air trapped near the ceiling back out around your rooms.


Use the sunlight to help heat your home. During the day when the sun is shining bright, open your curtains and let the sun help heat your home naturally.


Open the oven when you're done cooking. While it may be a no-no to open the oven while cooking (this reduces the temperature by up to 25 °F each time), opening it once you're done cooking and the oven is turned off lets out the excess heat that would otherwise go unused.


Conduct a home energy audit. The Energy Audits & Weatherization program available through your NHSaves utility partners provides a whole-home energy assessment for those who qualify. The energy audit costs $100, which will go toward the cost of any work that needs to be done. This can help ensure your home is properly insulated and identify areas that may benefit from insulation (like attics and crawl spaces) or weatherstripping (windows and door frames).


Use a curtain with a heavier material. When you close the curtains once the sun goes down, using a heavy curtain will help trap heat inside your home and block cold air from seeping through your glass windows from the outside.


Add a rug to your hardwood floors. Surprisingly, 10–20% of your home's heat is lost through uninsulated floors, like hardwood and tile. Adding area rugs can add a nice decorative touch, reduce heat loss and keep your toes warm!


Install a smart thermostat. A smart thermostat, like these ones available through the NHSaves Marketplace, offers technology that allows you to lower the temperature while you're not home and set it to a comfortable temperature for you and your family for when you plan to return. Even better? You can set different temperatures for different times of the day to maximize your energy savings.


Light the fireplace. If you have a fireplace, using this allows you to heat your home without using any additional utilities—plus, it makes for a cozy atmosphere!


Close the doors of unused rooms. If there are rooms in your home that aren't being used, closing those doors means you won't be heating unnecessary spaces.

No matter how you choose to incorporate energy efficiency into your home routine, small changes can add up to make a big difference. Use these tips or check out the residential rebates offered by your NHSaves utility partners to get started today.