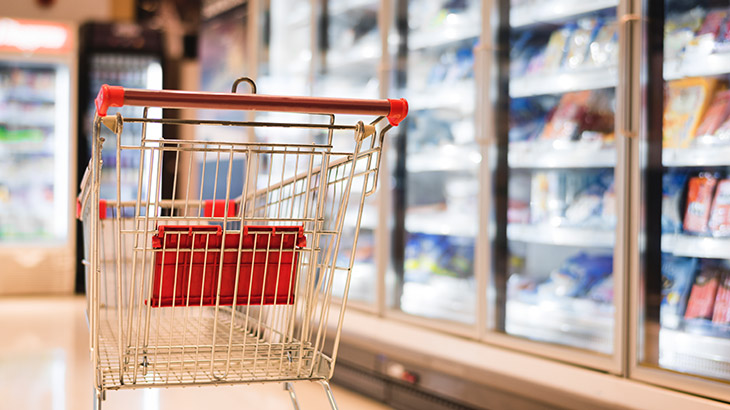 Guy LaPerle is using energy efficiency programs to make his supermarket the leanest and greenest in the North Country, if not the state.
Since 2005, LaPerle's IGA has taken advantage of NHSaves Commercial & Industrial program rebates totaling more than $25,000 to trim its annual energy costs by $15,000 a year. And the Green Grocer of Colebrook isn't done yet. A huge solar PV system, the largest north of Franconia Notch, is taking shape in his back lot where it will generate some 40,000 kWh of electricity each year.
If it's a different year, it's a different project and a different NHSaves program. In 2005 LaPerle upgraded to energy efficient motors for his refrigeration system. In 2009, he upgraded lighting in the produce department, saving $490 per year. In 2010, he replaced all vertical lighting in the freezer cases with LED lights, saving over $4,500 per year. In 2011 he completed a storewide lighting retrofit and installed night shades to insulate freezer cases during off hours for an annual savings of $5,300. This year's improvements have included the installation of horizontal LED lighting in meat and produce cases at a savings of $5,400 a year.
For a family business that's been a North Country fixture for decades, energy efficiency isn't all about dollars and cents. "You've got to look at the big picture," LaPerle said. "There is some financial incentive, but I believe in being green, reducing our dependency on foreign oil and being as smart as you can with energy."
Working with Bill Vecchio, his New Hampshire Electric Co-op Account Executive, LaPerle has been able to plan a multi-year slate of improvements that has enabled him to save significantly on energy costs, all while expanding the square footage of the store.
"Guy really takes the long view with these improvements," Vecchio said. "Energy efficiency costs more up front, but the NHSaves incentives can make projects like these much more affordable."
LaPerle puts it more succinctly. "I couldn't afford not to do it," he said.